Green Hosting
MyDomain is committed to becoming a greener, environmentally-friendly business. To aid this effort, we have purchased renewable energy credits equal to 150% of our hosting server power consumption. Sign up for any MyDomain hosting plan today and support the adoption of renewable energy.
150% wind energy offset for all web hosting servers

We purchase enough renewable energy credits from to offset all of our hosting power use and then some!

We plant a tree for each purchase

We purchase a tree from the Trees for the Future program for every new MyDomain web hosting customer.

High-efficiency servers

Our hosting infrastructure is constantly upgraded for maximum performance and reliability, which also results in greater efficiency and energy savings.

Green hosting badges for your websites

MyDomain hosting customers can add badges to their websites to promote that they use green hosting.

A green business
StarterPlus only $3.75 per mo.
Add to Cart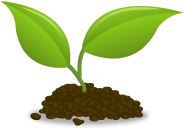 Add a badge to your website to promote that it's powered by renewable energy!
Eco-friendly Website powered by MyDomain®
This website is offset by 150% Wind-Power powered by MyDomain®